Les Villas Riviera is a company created in November 2021 comprising two large houses and six lodges for seasonal rentals in a peaceful, wooded setting near the sea. The houses can accommodate from 8 to 10 people (depending on the house) and the lodges can accommodate up to two people.
Each Villa has its own large enclosed garden with a swimming pool with a fully retractable cover.
Each lodge has its own small garden of about 400m² and private swimming pool. The Lodges have been designed in different styles: a "Seaside" theme, a countryside theme for the "Nature" Lodges and warmer styles for the "Land" Lodges. Choose the style that's right for you!
All these rentals are located in the townland of Fouesnant, opposite the Glénan archipelago, in an idyllic setting ideal for relaxing and walking.
We aim to offer you a unique experience close to nature and a moment of serenity.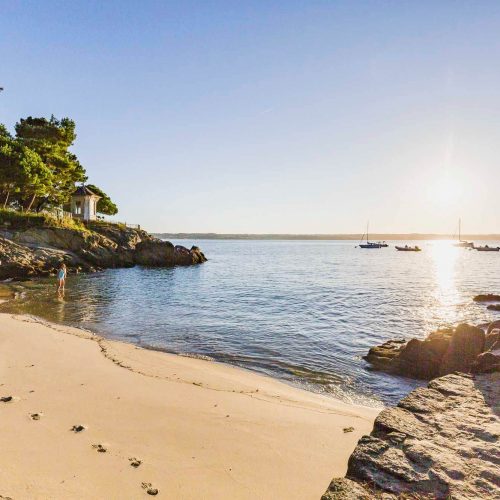 The villa is wonderful and set in a huge lawned garden with gated access. It is very private, in a quiet area, and although there are neighbours, they are not too close. It is modern, clean and very well equipped.

Carine and Alain are perfect hosts. They welcomed us in person to make sure we knew where everything was and gave us lots of information about the area, things to do and places to visit. The beaches are magnificent, with a choice of calmer beaches for relaxing or others offering water sports. The nearest beach is a 15-minute walk away. However, the nearest supermarkets and food shops are a few kilometres away, so visitors will probably need to have a car.

The bedrooms are bright and comfortable and the large bathroom has a lovely walk-in shower. The well-equipped kitchen, dining room and living room are open plan, offering plenty of space for large families. The garden is large enough to play badminton and the (heated) swimming pool is fabulous.

Not shown in the photos at the time of publication, the pool is equipped with a glass awning that can be fully retracted for outdoor bathing or closed for use in cooler weather or to restrict access for safety with young children. There is also a table tennis table in the garage, which we really enjoyed. We highly recommend this property for family holidays.
We were greeted by very friendly owners, who gave us good advice about the local area and were available for us at all times. The holiday home is very spacious and furnished tastefully with quality furniture.

The large swimming pool can be covered if needed, so can be used even in bad weather. The surroundings (the garden is huge) are very quiet, and there's a lovely beach within walking/biking distance. All in all, it was a very relaxing stay for us, where we felt at home from the moment we arrived. We'll definitely be back!
2 wonderful weeks spent in this superb villa. Very spacious living areas (living room, lounge, kitchen, terrace). There were 10 of us with 6 children and there's no shortage of space. Very pleasant jacuzzi/sauna area.

Beautiful (heated!) swimming pool and large, relaxing garden. I particularly recommend the jacuzzi/sauna/pool combo after cycling or hiking! Recovery guaranteed. Carine and Alain are very welcoming and always available (thanks for everything!). Don't hesitate to ask for their advice! Whether it's a trip to the Glénans, up the river Odet or a walk along the coast, they have all the intel! The region is magnificent, with lovely paths (for hiking, cycling or running), 2 golf courses 15 minutes away, and of course the coast with its beaches and coves.
Extraordinary property, professional and attentive owners, two weeks of non-stop happiness for all the family, ideal location close to everything, 5 minutes from the shops, beaches, places to go for walks, etc. Probably one of the most beautiful places in Brittany, with the added bonus of a day spent on the Glénan archipelago... Strongly recommended to anyone looking for paradise on earth...
This is an ideal house for a family holiday (there were three generations of us). It is well furnished, very comfortable, and has excellent amenities and plenty of space, making it an excellent home. There is a beautiful garden with a swimming pool which we used every day.

The pool has a raised cover, so we were able to use it on rainy days. We also enjoyed the jacuzzi and sauna, as well as the cinema room where we could set up the Playstation for the grandchildren.

Fouesnant is picturesque and set in a beautiful part of France with excellent beaches and attractive coastal paths. A quiet sandy beach is just a short walk from the house and supermarkets are not far away. Our hosts were kind, friendly and did everything they could to make our stay enjoyable.

They answered any questions quickly and when we unfortunately had a few days of rain, they kindly provided extra games and puzzles for the grandchildren. Carine and Alain are wonderful hosts and it was a pleasure to meet them.